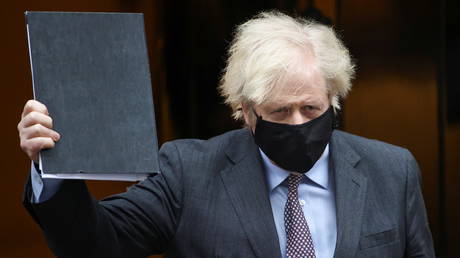 Britain's Prime Minister Boris Johnson admitted on Monday that there is "no credible route" for Britain or the world to become completely free of Covid-19 when he announced a plan to gradually lift the restrictions.
Noting that there will be more cases, hospitalizations and deaths every time Britain decides to lift its lockdown – whether it is immediately or in nine months – Johnson told that there are "no credible route to a zero-covid UK or indeed a zero-covid world."
We cannot continue indefinitely with constraints that weaken our finances, our physical and mental well-being and our children's livelihoods.
In laying out his plans for the gradual lifting of restrictions, Johnson said that is the case "essential for this roadm to be careful but also irreversible," claims that Britain is "to go out on what I hope and believe is a one-way road to freedom, and this journey is made possible by the pace of vaccination. "
Johnson's plan involves schools reopening on March 8, when Britons were originally allowed to meet a single person outside and a regular visitor for nursing homes, a restriction to be relaxed for up to six people or two households meeting outdoors from March 29th.
The slow back-to-normal roadm, which could extend further, depending on the coronavirus data, is expected to continue with step two starting at groove 12 and step three around May 17th. Non-essential businesses will potentially be able to reopen in ril, and in May there will be larger outdoor – and some indoor – gatherings where pub and sporting events are allowed. The final phase, which starts on June 21, will reportedly see many restrictions lifted or relaxed, and nightclubs will also be allowed to reopen.
Nearly 18 million people in the UK have received their first dose of the Covid-19 vaccine, and over 600,000 have received their second dose, with vaccination steadily increasing every day. Meanwhile, it is said that the number of people testing positive for the virus is steadily declining.
Do you like this story? Share it with a friend!